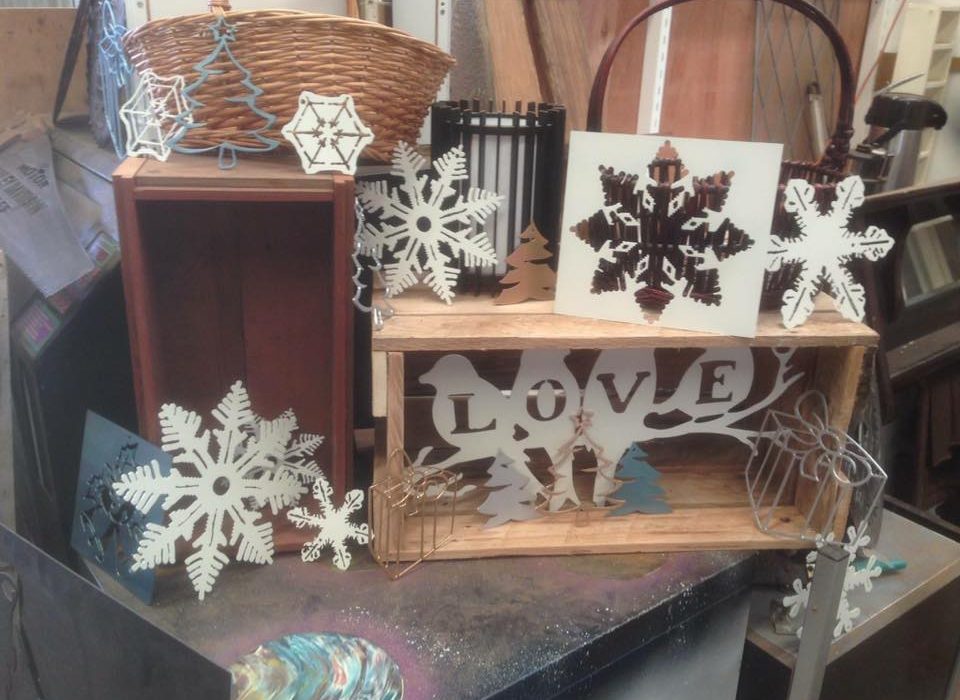 Week 2 of the Weekly Bark and we are as busy as ever!! Christmas is just around the corner (23 days to be precise) so it is time to release our Christmas Decorations!! Each piece is cut from 1mm steel so that it is as lightweight as possible, and then hand painted in your choice of colour.
We currently have 6 styles in the Christmas Range and each style comes in 3 sizes: (L) 25cm, (M) 20cm and (S) 15cm.
Our styles include:
Classic Snowflake (pictured below)
Snowflake #2 (pictured top left in the pic above)

Snowflake #3 (pictured top left, to the right of the Open Real Snowflake)

Open Tree (pictured in blue)
Solid Tree (pictured in Gold)
Gift Box (pictured in Gold)
The larger size pieces are great for hanging in your window or dressing up a table setting. The medium and smaller size ornaments make great Christmas tree decorations (obviously) but if you're feeling extra creative this year and want to add a unique touch to your gift wrapping, use a ribbon or string to attach a cut-out to the top of your present and your special someone can add it to their own Christmas Decorations Collection to appreciate for years to come!
Our Christmas Range is being run as a Special Edition Range and therefore isn't available through the IronBark Shop! Please contact us via the Contact form or via our FB page to custom order. Please include the sizes, styles and colour choices in your email.
COLOUR CHOICES:
White

Silver

Metallic Blue

Gold

Rose Gold
PRICING: (pricing includes all styles and sizes)
3 pieces for $20

5 for $30

10 for $50
Handling Prices:
0$ for pick up at a prearranged time from Figtree or Albion Park Rail

+$10 Delivery between Woonona – Shellharbour

+$20 Postage to anywhere else
Whether you are one of those people who have their Christmas Shopping finished in October or you're a little more like us and will be starting on the 20th, we hope the lead up to Christmas is not too hectic for you.
Have a wonderful weekend!
The IronBark Crew
*T&Cs Apply. Offer Expires 01 Jan 2017