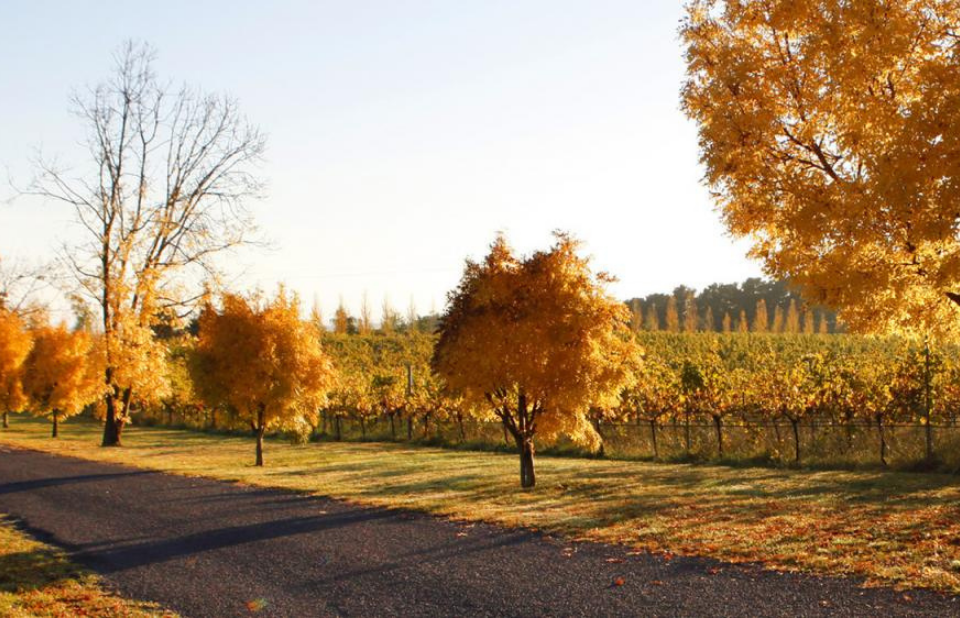 Hello!! First of all an apology to all of our Ironbarkers who take the time to read our blog posts. Our Weekly Bark turned into the Monthly Bark and then I had a baby and it turned into a no-bark-at-all BUT, WE'RE BACK! From here on in we aim to post at least one Bark Blog a month, more if I'm feeling super productive! What would you like to see in our blogs? Purely updates on our jobs and the how and what of our fabrication process or would you be interested in a little more of a personal aspect? Running a family business there is always a story to tell!

This week I've made the decision for you…I could give you a straight recount of our weekend at the sculpture exhibition in Orange, NSW but there is a much more entertaining side to the story that will hopefully give you a bit of a laugh (it was more of a laugh or you'll cry experience for us and believe me…there were tears).
The Steel Bloom Sculpture (shown below) was conceptualised by Megan and then fabricated by Jack with a lot of group work holding all of the petals in place so that we could ensure that the final product was going to reflect Megan's vision. Inspired by our original Lace Leaf Sculpture, the piece has 3 stainless steel petals overlaid with a rusted lace leaf. The photos do not do this piece justice and when the light catches the polished steel it is STUNNING!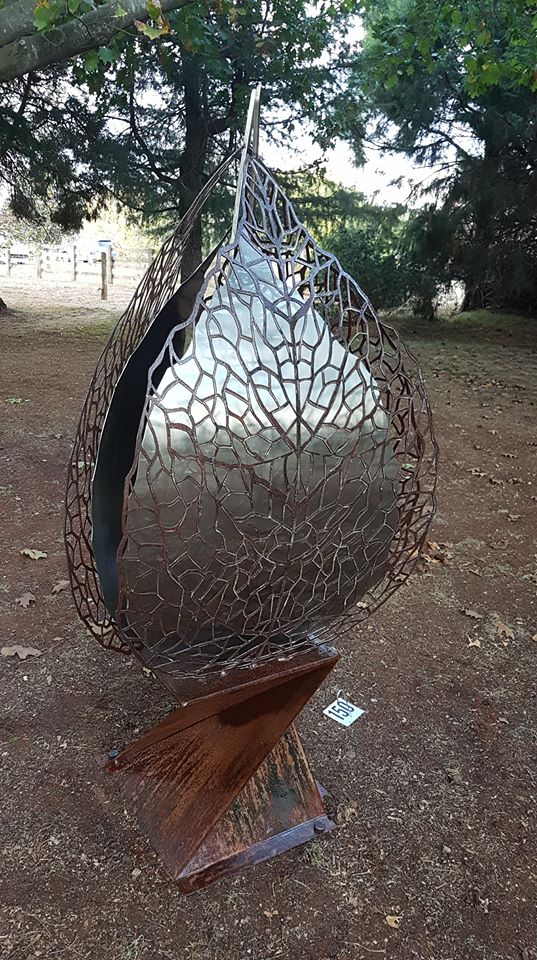 We made a decision to have the sculpture completely sealed with a new product that was SUPPOSED to bind to any surface. We collected the sculpture early Friday morning and found that this product in fact did not bind to anything…the seal was peeling off the rusted lace leaves and had bubbled on the plinth. DISASTER and understandably heart breaking for both Megan and Jack who had worked so hard on bringing this gorgeous piece to life. We stood around and stared at it for a while and then decided that with all of the time and effort that had been put into the piece it would be a waste not to exhibit it so we loaded it in the Ironbark ute and set off for Orange. Six hours later (including a lunch break…of course) we were in Orange and at the mercy of the GPS which politely advised us that our destination was 500m ahead on the left….in true GPS fashion it was, in fact, about 10metres on the left which led to Jack putting the brake through the floor of the Navara. The sharp movement caused a weld at the top of one of the petals to give way so that one of the petals was now flapping in the wind. Cue more tears…
This is where our story takes a turn…the hosts and volunteers of the Sculptures in an Orange Garden were unbelievable. The women ushered Megan inside immediately and administered the trusty solution to everything (tea and chocolate) and the men congregated around the car to inspect the damage before leading us around the back to a shed and welder where Jack performed metal art CPR. After placing the Steel Bloom in its designated area we set off to enjoy the rest of the sculptures and then explore the beautiful area that is Orange, NSW. This exhibition was a collection of diverse styles of sculptural pieces and it was incredible to see what ideas and techniques fellow exhibitors had produced.
While the ultimate end to our weekend would have been the sale of our sculpture, we are happy that we now have opportunity to sandblast and reseal the sculpture and also reinforce any weak points in the welds….not that we expect the eventual resting place for this piece to be anywhere where it will be victim to the inaccuracies of a GPS or the very reliable brakes of a Nissan Navara.
So there… what a weekend. Thanks for taking the time to read and we hope you had a bit of a laugh at our expense! Keep an eye out for this beauty on our Ironbark Shop once we have it up to our premium IronBark standard.
You can read all about the exhibition HERE.
The IronBark Team
Cover image: Visit NSW via Google