How much can I expect to pay for a fire pit?
Can I have a different pattern?
That size doesn't fit in my space, is there anything a little smaller?
I can get a cheaper fire pit elsewhere..
Our team hears these questions and statements frequently and we have an answer for all of them!
First of all, the prices of our standard fire pits range from $150 (our collapsible fire pit) to $1300 (our double-skin fire pit with heatproof paint). Of course custom sizing, patterns or finishes would result in adjustments to pricing but we have attempted to cater for most needs within our standard fire pit range.
Our collapsible fire p
it is not only the smallest, but also the most budget-friendly option in our fire pit range. This style is popular with campers/4WD enthusiasts because it packs away to a relatively compact and streamline size so it can be easily slotted into the back of the car without taking up valuable packing space that could be used for other essential items (food, food and more food) or the not so essential (that port-a-loo that the wife just won't travel without but refuses to empty).  It is also popular with those who have limited outdoor space and want to be able to have the occasional fire but can't afford to sacrifice the space all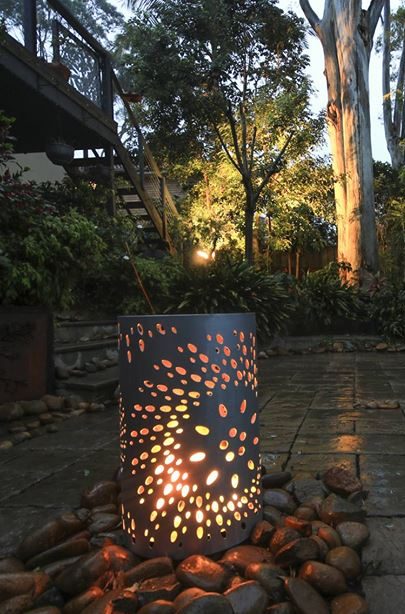 year round.
A step up from this in pricing would be our Round Fire Pits. Available in Squat, Medium or Large, come in a variety of patterns and are probably one of our most popular fire pit styles. This style is more suited as permanent fixture in you outdoor space but of course can also be packed away if you have the space. These fire pits are where the fun begins with patterns!! The options are endless and we have so far done everything from our floral or fanfare patterns to themed fire pits (footy teams, beer brands or favourite animals). A few clients have gifted these fire pits and have asked to have certain phrases or family members names incorporated into the pattern which we think is a really beautiful and unique gift.
Next up and probably at the top of our price bracket is the Double Skin Fire Pit. Now this baby is a work of art with two layers of patterned steel incorporated into the final product producing a delicately intricate silhouette from the glow of the fire.
None of these fit your needs? Contact us! We can always adjust sizing, patterns or even develop a unique design with you to make sure that you end up with exactly what you are after.
Finally…Yes, you could get a cheaper fire pit elsewhere BUT when you purchase an Ironbark fire pit you know that your fire pit has been designed and fabricated for you…just you! It hasn't been one of 100 that have been pumped out that day and it has had the tick of approval from our resident perfectionist and fabricator. Plus, you can't beat that warm fuzzy feeling of supporting a local business because you know what they say…when you purchase local an actual person does a happy dance.
Well that snuck up on us…what would we do without good old Facebook memories reminding of us special milestones!!
4 years ago we purchased a CNC machine. The idea was originally born from Megan and Adam's search for decorative screens, garden edging and other garden landscaping pieces to use in their own garden and the resulting realisation that there was nothing that met the brief within the desired price bracket, standard of quality or locality. Now, we would be lying if we said we all saw the potential that this venture had from the very beginning. If you asked Adam – We were going to create a successful business that produced high quality, reasonably priced products for both residential and commercial customers, IT WAS GOING TO BE AMAZING!! Jack – This could be a cool hobby to run on the side of working full time as a panel beater. As for the ladies, we were a little harder to convince….Megan saw Adam's enthusiasm and drive and Jack's skill and perfectionism, and decided it was worth giving a go. But me? I was a nooo….not even a little bit….this is a horrible idea.
The fact that we are here today shows how much store my family puts in what I have to say….BUT THANK GOD FOR THAT!
Ironbark ran as a hobby for around 2 years, developing our branding and refining our designs and fabrication techniques while Jack and Adam both worked full time jobs. It's safe to say there were plenty of long days and late nights put in by these two, and as much as Megan and I whinged and complained that they were never home, we can now officially say that their hard work has paid off. By 2016 our products were drawing attention and our little enterprise was out-growing its hobby status. So in October of that year, we decided that this venture deserved to be given the opportunity to become a fully fledged business. So here we are! Ironbark Metal Design continues to grow thanks to all of you, the people who see the value in shopping 'small'..locally based and family owned products. Sure, you could buy a mass produced screen or fire pit for cheaper than what we can produce but nothing beats knowing that your purchase has been made from Australian steel, by a family who take pride in what they do, in a suburb just down the road from you. Above all, you can be sure that your Ironbark piece is going to last. Before your family has sat around your new fire pit, our family has sat around the prototype and given it hell (seriously…) to ensure that it is durable, functional and safe. We're confident in installing our products in your homes because we've installed them in our homes first. Honestly, our houses are easily recognisable because they are covered in Ironbark prototypes and products – regardless of how many times I've told Jack that we are at maximum metal saturation (I came home to new metal wall art hanging in our toilet one day, because any blank space is apparently a perfect candidate for Ironbark-ing!).
It has been 4 years of hard work, challenges, tears (just because we're related doesn't mean we like each other all of the time) but most of all fun, excitement and love (so gooey right?). From me, a huge congratulations to Adam, Jack and Megan on all of the blood, sweat and tears they have shed over the past 4 years but most importantly, and from all of us, a ridiculously huge thank you to YOU! Whether it's a like, comment or share on our social media pages, telling your friends about us or purchasing an Ironbark product, it really does mean the world to us.
To show our appreciation we are offering 15% off all of our standard fire pits until midnight AEST Sunday 27th May 2018. Just mention this post when placing your order, via email (info@ironbarkmetaldesign.com) or phone (02 4229 2222) and we'll deduct 15% from the total cost of your order. Follow the link below to browse our range
Hello!! First of all an apology to all of our Ironbarkers who take the time to read our blog posts. Our Weekly Bark turned into the Monthly Bark and then I had a baby and it turned into a no-bark-at-all BUT, WE'RE BACK! From here on in we aim to post at least one Bark Blog a month, more if I'm feeling super productive! What would you like to see in our blogs? Purely updates on our jobs and the how and what of our fabrication process or would you be interested in a little more of a personal aspect? Running a family business there is always a story to tell!
This week I've made the decision for you…I could give you a straight recount of our weekend at the sculpture exhibition in Orange NSW but there is a much more entertaining side to the story that will hopefully give you a bit of a laugh (it was more of a laugh or you'll cry experience for us and believe me…there were tears).
The Steel Bloom Sculpture (shown right) was conceptualised by Megan and then fabricated by Jack with a lot of group work holding all of the petals in place so that we could ensure that the final product was going to reflect Megans vision.  Inspired by our original Lace Leaf Sculpture, the piece has 3 stainless steel petals overlaid with a rusted lace leaf. The photos do not do this piece justice and when the light catches the polished steel it is STUNNING!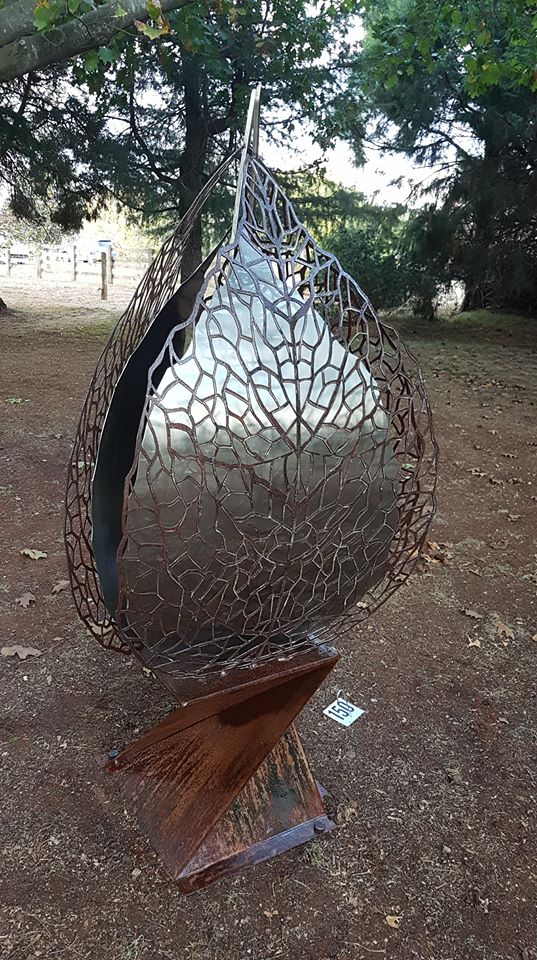 We made a decision to have the sculpture completely sealed with a new product that was SUPPOSED to bind to any surface. We collected the sculpture early Friday morning and found that this product in fact did not bind to anything…the seal was peeling off the rusted lace leaves and had bubbled on the plinth. DISASTER and understandably heart breaking for both Megan and Jack who had worked so hard on bringing this gorgeous piece to life. We stood around and stared at it for a while and then decided that with all of the time and effort that had been put into the piece it would be a waste not to exhibit it so we loaded it in the Ironbark ute and set off for Orange. Six hours later (including a lunch break…of course) we were in Orange and at the mercy of the GPS which politely advised us that our destination was 500m ahead on the left….in true GPS fashion it was, in fact, about 10metres on the left which led to Jack putting the brake through the floor of the Navara. The sharp movement caused a weld at the top of one of the petals to give way so that one of the petals was now flapping in the wind. Cue more tears…
This is where our story takes a turn…the hosts and volunteers of the Sculptures in an Orange Garden were unbelievable. The women ushered Megan inside immediately and administered the trusty solution to everything (tea and chocolate) and the men congregated around the car to inspect the damage before leading us around the back to a shed and welder where Jack performed metal art CPR. After placing the Steel Bloom in its designated area we set off to enjoy the rest of the sculptures and then explore the beautiful area that is Orange NSW. This exhibition was a collection of diverse styles of sculptural pieces and it was incredible to see what ideas and techniques fellow exhibitors had produced.
While the ultimate end to our weekend would have been the sale of our sculpture, we are happy that we now have opportunity to sandblast and reseal the sculpture and also reinforce any weak points in the welds….not that we expect the eventual resting place for this piece to be anywhere where it will be victim to the inaccuracies of a GPS or the very reliable brakes of a Navara.
So there…What a weekend. Thanks for taking the time to read and we hope you had a bit of a laugh at our expense! Keep an eye out for this beauty on our Ironbark Shop once we have it up to our premium IronBark standard.
The IronBark Team
Cover image: Visit NSW via Google
One of our favourite perks of what we do is being able to work with our clients on bringing their visions to life as well as observing the resulting transformations of their indoor/outdoor spaces. Earlier in the year we had the pleasure of working with a local couple who were transforming their backyard from a blank, grassed area to a more usable space that would not only be conducive to entertaining their friends and family but also sturdy and low maintenance enough for their dogs to play.
The landscaper and clients had carried a circular theme throughout the garden design and therefore our Ironbark Log Rack fit the brief perfectly. With a few adjustments to meet the clients specific sizing requirements, our Log Rack now sits proudly next to the new bar and entertaining area as not only a functional piece but also as an aesthetic addition.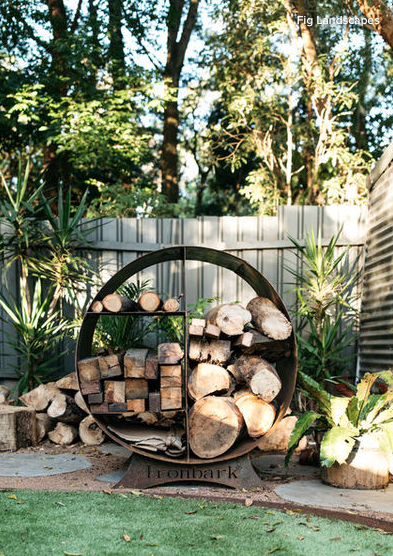 (Photography credit to Houzz.com.au)
We also worked with the clients to create a custom letterbox which ties in with the theme of the backyard and enhances the home frontage. The beauty of this letterbox is not restricted only to daylight hours. We installed a solar light inside the base of the letterbox so that the tree and numbers are illuminated at night to welcome guests at all hours. The background of the photo below also showcases our Tree of Life panel that was customised to disguise a colorbond gate. The panel had only just been installed at this stage and therefore had not developed the same rich rusted tone of the letterbox but we will keep you updated with a revisit!
(Photography credit to Houzz.com.au)
This property was featured in Houzz this week and the finished product is just too beautiful not to share! We were honoured to contribute to this renovation and we are stoked with how our pieces have nestled themselves into their new surroundings. If you would like to have a sticky beak at the entire backyard renovation check out [houzz=https://www.houzz.com.au/ideabooks/89656982/list/stickybeak-of-the-week-a-beaut-little-aussie-backyard w=300]
Until next time Barkers!
The Ironbark Team
Well the temperature has definitely dropped and the warmer months are officially gone! For many of us, the beginning of the cooler months comes with a neglect of our beautiful outdoor entertaining areas but what if it didn't have to be this way?
An Ironbark fire pit provides a beautiful ambiance to your outdoor spaces as well as a focal point and source of warmth for you and your guests to congregate. There is just something so mesmerising about sitting around a fire. The play of light and flame through our gorgeous range of patterns serves to enhance the experience! We have a range of shapes and sizes available including our squat round, tall round and pyramid styles and we are soon to release our FireBowl line!
Have you fallen in love with a pattern and would love to see it on a fire pit? Let us know!! We love working with our clients to make their ideas a reality. Recently, a client commissioned a comemmorative fire pit and if you keep up to date with our Facebook page you would have seen how stunning and evocative it was.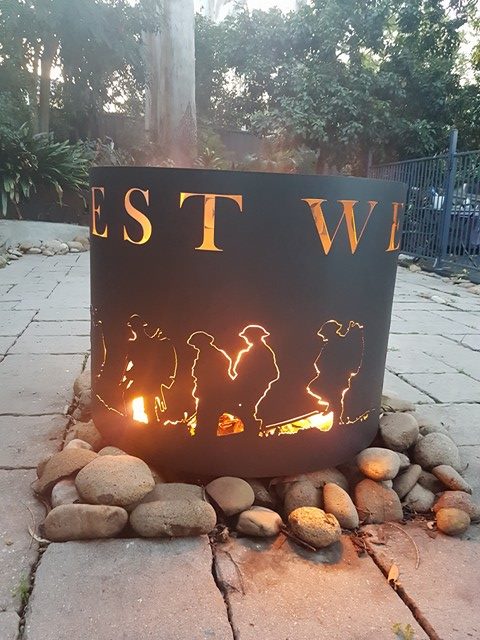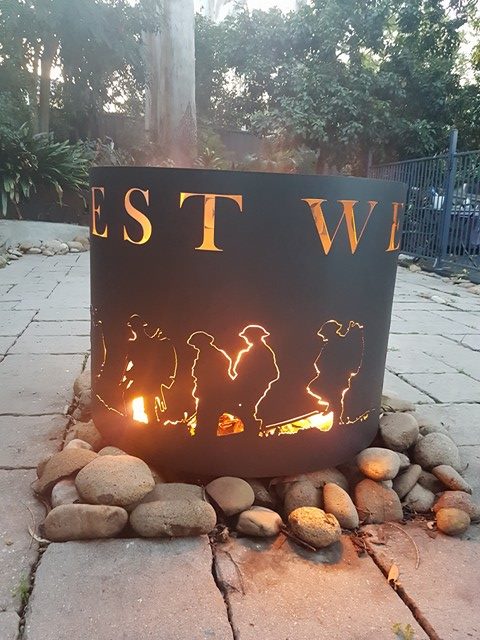 Many commercial campsites only allow you to light a fire if you have a contained fire pit but who has space in the car for that?! Our collapsible fire pits can be deconstructed to 4 flat pieces that slide easily into the back of your car, taking up minimal space. They are also handy for those that don't have the space in the backyard for a permanent fire pit but also don't have room for storage when not in use…the collapsible fire pit packs away and takes up next to no space in a cupboard or garage. Can you think of someone who would love a collapsible fire pit? They are priced so reasonably that they make a great present that sure to be loved by the recipient. 
If you would like to see our complete range of fire pits please visit:
https://ironbarkmetaldesign.com/product-category/fire-pits/
As always, shoot us an email, phone call or FB message if you have a unique idea in mind and would like an obligation free quote!
We can't wait to see what our community comes up with..
The IronBark Team.
Hello again Barkers!
We hope you all had a lovely Easter and Anzac break, we definitely ate our weight in chocolate! I am viewing it as a personal challenge to see how fast I can eat all of my chocolate…..if it's not in the cupboard anymore I can't eat it right?
We have done some really stunning installs this month including a new panel on an automatic gate and the installation of some nature themed panels in a collaboration with Lifestyle Aluminium. The gate proved to be VERY popular on our social media platforms and we can see why….I can't think of a better way to make a first impression on your guests.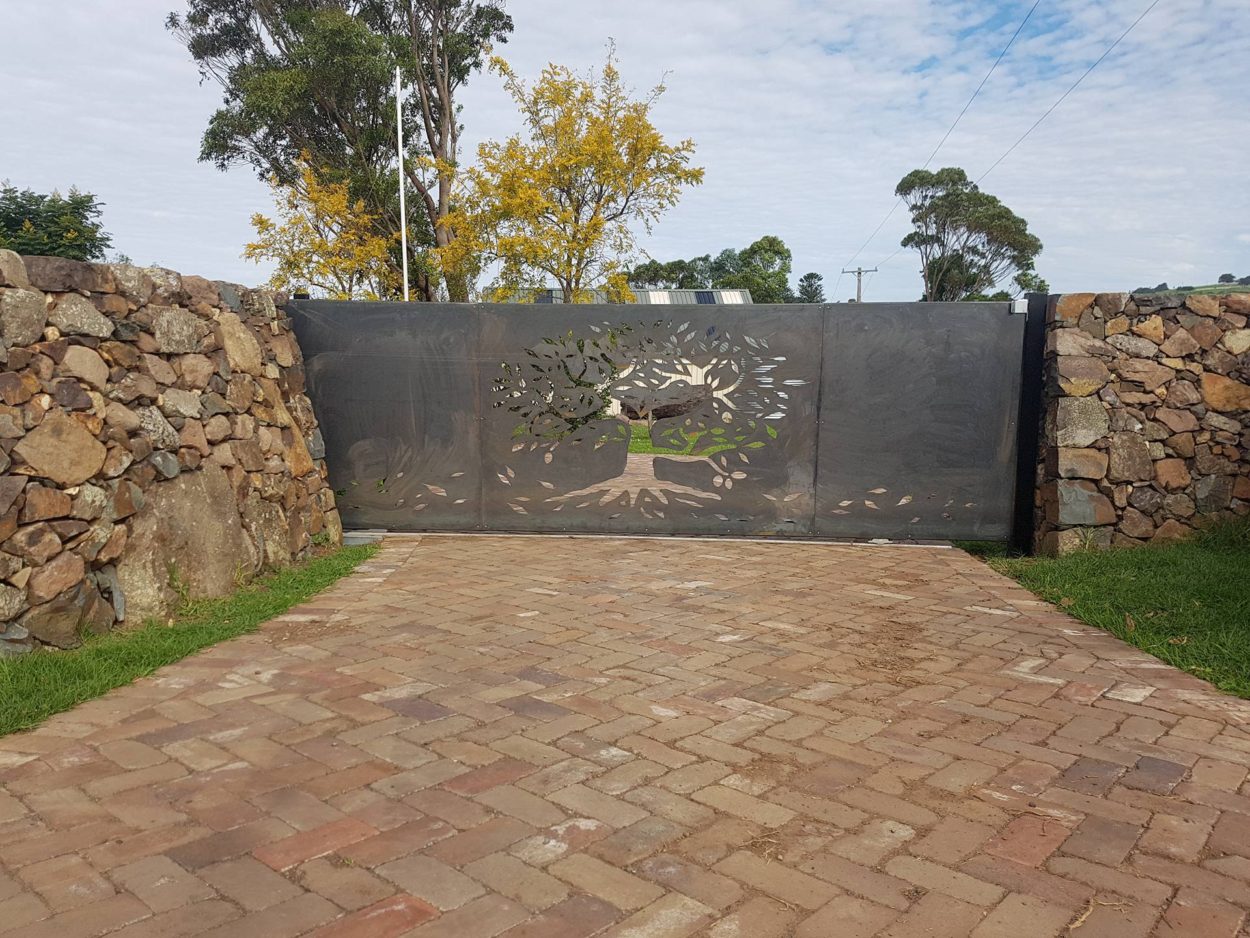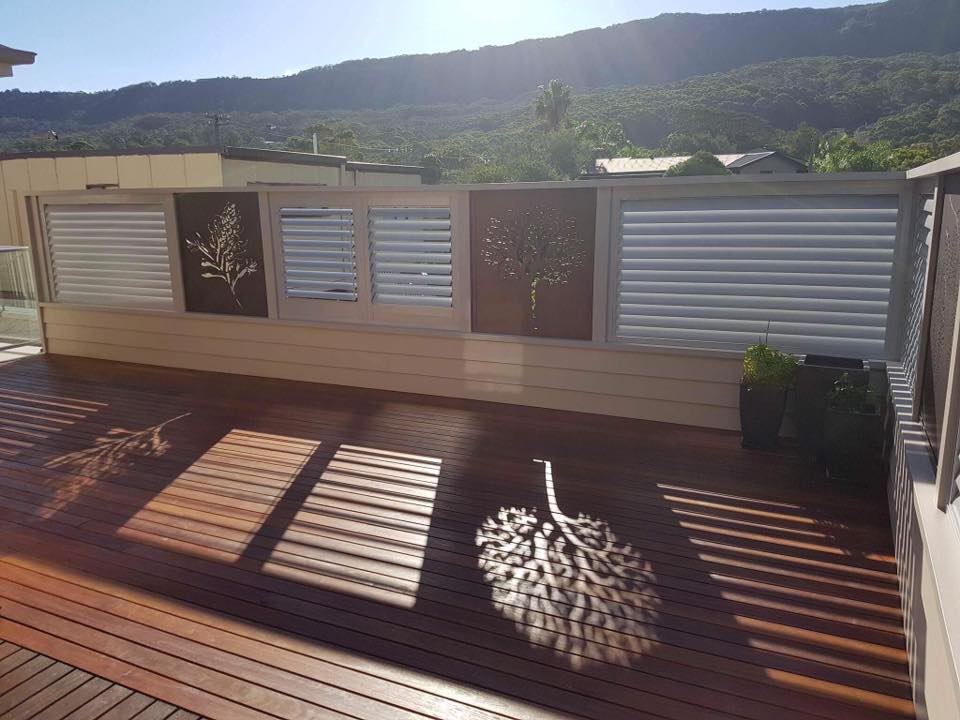 Our appearance at The Home Show at the ICCC last month was so successful that we have started exploring other exhibition opportunities closer to home. Our next appearance will be at Sculptures in The Valley being held at Cedar Grove, Kangaroo Valley from the 5th-7th of May. This exhibition features over 140 indoor and outdoor sculptures from the wide array of ridiculously talented artists. Our lead artist Megan will be entering a very popular piece that she designed for our sculpture collection. Want to know what it is? You'll just have to come and see!!
All of the details of the show can be found at http://www.artsinthevalley.net.au/sculpture
The Sculpture exhibition is being held as part of the Arts in The Valley Festival which showcases a collection of live musicians and visual artists. Why not spend a day with the family in a beautiful part of the world appreciating some of the exceptional talent that we have in this area.
We hope to see you there!
The IronBark Crew
Hello Barkers!!
It has been a while since our last post…we have had a VERY busy start to the year but we are making a commitment to make sure that our dedicated followers are kept up-to-date on all our news. Our most exciting news at this stage is that our products are being displayed at the Sydney Home Show by one of our very special distributors House Of Bamboo!
The Home Show is an event held annually at the International Convention Centre at Darling Harbour showcasing the latest trends and technologies in building, renovation and home improvement. It is a valuable resource for anyone planning on building or renovating or even if you have been entertaining the idea of dressing up your home but not exactly sure what you want to do. This event provides a one-stop-shop of inspiration and advice from experts in their field.
Our distributors, House of Bamboo are located in Botany and supply sophisticated bamboo products including privacy screens, fences, flooring as well as wall and ceiling cladding. They produce some really beautiful products which can change the atmosphere of an entire indoor/outdoor space. Check out their website if you want to get an idea of what they specialise in before visiting on the weekend ( https://houseofbamboo.com.au/ ).
To celebrate this special event, we will be revealing a new pattern and we can't wait for you to see it! If you are interested in coming to check us out you can register for free tickets online right now at http://www.sydneyhomeshow.com.au/.
If you are coming please let us know in the comments. The IronBark team will be up there Saturday afternoon so if you see us please stop and say hi!
The IronBark Team
We are back!! 
Ok well we've actually been back for almost 4 weeks now but it has taken me this long to sit down and get this blog post written! We definitely hit the ground running this year, we kicked off the year with brand new signage for our factory and, we are pretty damn proud of if it we do say so ourselves! The Cube is one of our favourite sculptures and we decided to add a little bit of a twist..(literally…it spins!)  We also got our creative juices flowing on the framing (which is in the process of rusting).  Our rusted garden edging really sets it off and it was turning heads as soon as it was installed … What do you think?
Below is another recent project we created in collaboration with our clients. This couple came to us looking to fill in some openings in their new outdoor area with decorative screens that would still allow light and air flow, but provide some privacy as well as function as an aesthetic feature. The owners were stoked with the finished product and did a seamless job of mounting them themselves. We are very proud of this one…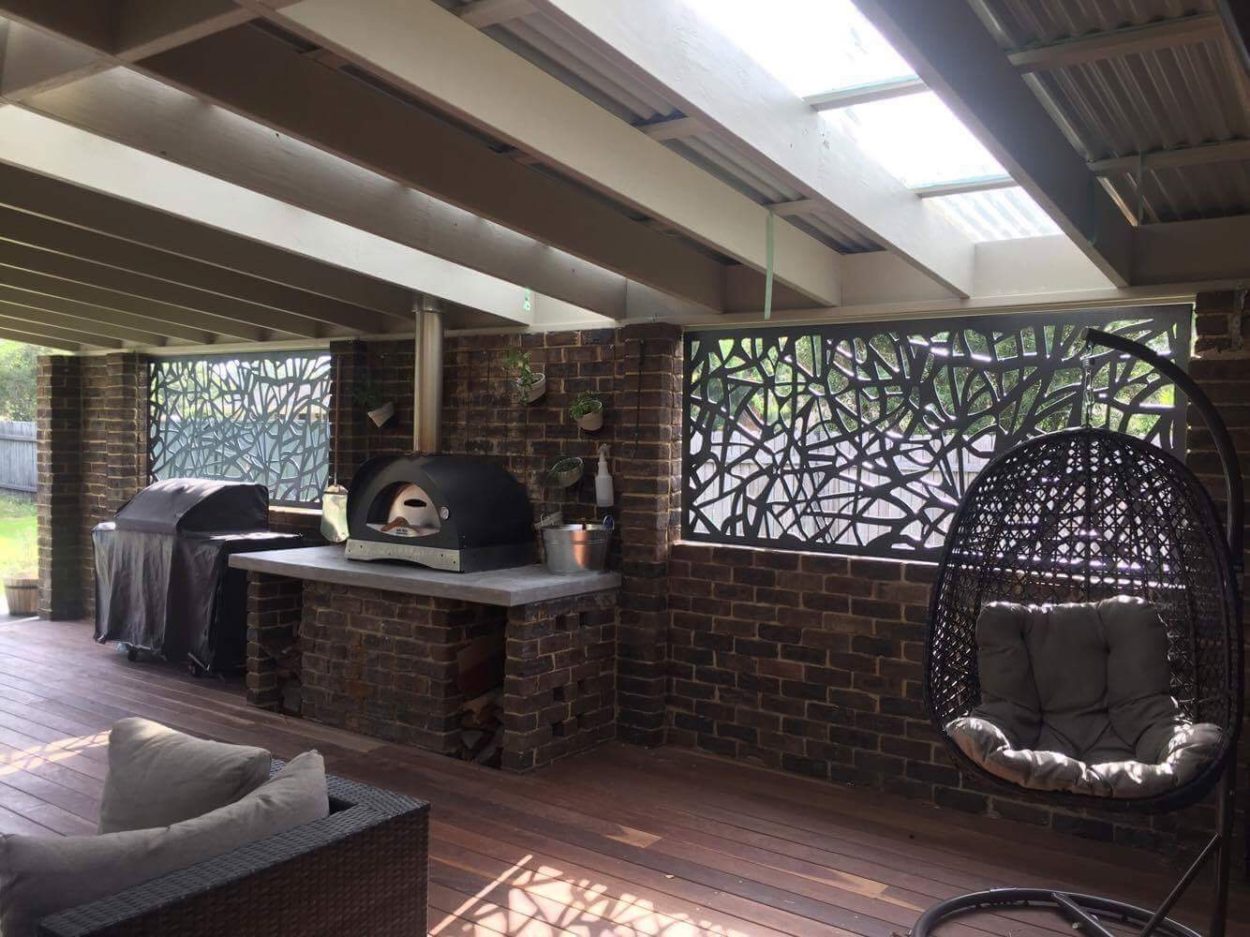 That's all for now, ready for another busy week of creating magic!
Until next time Barkers, 
The IronBark Crew
Week 2 of the Weekly Bark and we are as busy as ever!! Christmas is just around the corner (23 days to be precise) so it is time to release our Christmas Decorations!! Each piece is cut from 1mm steel so that it is as lightweight as possible, and then hand painted in your choice of colour.
We currently have 6 styles in the Christmas Range and each style comes in 3 sizes: (L)25cm, (M) 20cm and (S)15cm.
Our styles include:
Classic Snowflake (pictured below)
Snowflake #2 (pictured top left in the pic above)
Snowflake #3 (pictured top left, to the right of the Open Real Snowflake)
Open Tree (pictured in blue)
Solid Tree (pictured in Gold)
Gift Box (pictured in Gold)
The larger size pieces are great for hanging in your window or dressing up a table setting. The medium and smaller size ornaments make great Christmas tree decorations (obviously) but if you're feeling extra creative this year and want to add a unique touch to your gift wrapping, use a ribbon or string to attach a cut-out to the top of your present and your special someone can add it to their own Christmas Decorations Collection to appreciate for years to come!
Our Christmas Range is being run as a Special Edition Range and therefore isn't available through the IronBark Shop! Please contact us via the Contact form or via our FB page to custom order. Please include the sizes, styles and colour choices in your email.
COLOUR CHOICES:
White
Silver
Metallic Blue
Gold
Rose Gold
PRICING: (pricing includes all styles and sizes)
3 pieces for $20
5 for $30
10 for $50
Handling Prices:
0$ for pick up at a prearranged time from Figtree or Albion Park Rail
+$10 Delivery between Woonona – Shellharbour
+$20 Postage to anywhere else
Whether you are one of those people who have their Christmas Shopping finished in October or you're a little more like us and will be starting on the 20th, we hope the lead up to Christmas is not too hectic for you.
Have a wonderful weekend!
The IronBark Crew
What a year we've had so far…developing our brand and growing Ironbark Metal Design from a hobby side business to a successful brand in its own right.